$99.00
"The lightest, most comfortable
sport sandal
your feet will ever love."
Imagine your favorite sport sandal… you know the ones. They strap onto your foot, they weigh up to a pound — or more — they're thick as a brick.
Now imagine getting rid of up to 70% of the weight, and almost all of the bulk!
Imagine a sport sandal that feels like you've simply glued a protective tire tread to your foot. Your feet are free and airy, they move and bend and flex. They can grip the ground as you hike. They're as comfortable in the water — if you're boating or fishing — as they are on land. They slide on and off in seconds, but hold securely no matter what you're doing.
That's the new Amuri Z-Trek.
Reasons you'll love the Amuri Z-Trek:
Super-comfortable webbing
Adjustable Z-pattern — get the right tension across your foot, over your foot, and behind your heel.
Three color combinations — Coal Black soles with Charcoal, Mocha Earth soles with Coffee Bean webbing, and Slate soles with Patriot Blue webbing.
5.5mm FeelTrue® outsole protects you from unpleasant surfaces without sacrificing ground feel
Elegant contour surrounds your foot, but doesn't add unnecessary support
Super light weight — a Men's size 9 sandal averages 6.5 ounces each
"Zero-Drop" — your heel isn't elevated; your feet are anatomically correct
Rust-proof kirsite hardware
100% Vegan (like all our products)
Ready to wear — the lacing is already done for you. Just slide in your foot and go
Heel cup — keeps your heel in place, helps keep out debris, and adds a splash of colour
GET THE RIGHT SIZE FOR YOUR AMURI Z-TREK
Barefoot sandals don't fit the same way as shoes, or other sandals. Just because you wear, say, a size 10 Nike Free, that doesn't mean you'll wear a size 10 Amuri Z-Trek (and, I'm willing to bet you have other shoes that are 9.5 or 10.5… so are you really a 10?)
By following the instructions below, you'll get the correct fit for your Amuri sandals.
NOTE: Please follow these instructions to get the right fit
3 SIMPLE STEPS TO THE CORRECT FIT
1) Measure your foot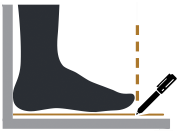 Place a piece of paper against a wall (if you have VERY large feet, use a piece of newspaper.
Place your foot on the paper, with your heel against the wall.
Make a mark on the paper at the furthest point away from the wall… this will either be just in front of your big toe or second toe
Take a ruler and measure from the edge of the paper to the mark you made.
Here's a video showing the process
2. Check your measurement against the chart, below
This will give you a good idea of your size… but PLEASE follow the next step whenever possible.
3. Verify the correct fit by printing the size template and comparing it to your foot
If your foot is much narrower than the outline in the templates, try a "women's Z-Trek."
If you seem to be "between" sizes, we recommend choosing the smaller size.
​
Note: Print the templates at Actual Size or 100% Scale.

Here's a video showing how to use the Template:
HOW TO ADJUST YOUR AMURI Z-TREK FOR A PERFECT FIT
Follow these simple video instructions to get the "just right" tension.