$139.00
Your new favorite minimalist shoe for running, working out, strolling, Crossfit, slacklining… and everything else you love to do…
Tens of thousands of people have worn our sandals for millions of miles of running. But sometimes a shoe is a more appropriate option.
The NEW Prio is a high-performance, true minimalist running and fitness shoe.
The Prio is about proPRIOception. Your feet are supposed to move, bend, flex and feel… the Prio lets you do that. Take 'm for a spin and FEEL the Freedom, FEEL the fun, and FEEL the World.
Why you'll love the Prio
Natural FIT — A wide toe box lets your toes spread and relax. Plus the "XERO-drop" sole (non-elevated heel

and

low-to-the ground) allows for proper posture, balance and agility
Natural MOTION — The Prio is flexible enough to let your feet bend, move, and flex the way, well, that feet are supposed to. Plus, they're so light weight, you'll barely know you have them on. A men's 9 is only 7.6 ounces each
Natural FEEL — The Prio uses the same 5.5mm FeelTrue® rubber from our Z-Trek sandal, so you get great protection while still getting the ground feedback that your feet like. With an optional 2mm insole, the Prio lets you Feel The World®
Vegan friendly materials — No animal products in the Prio
Huarache inspired design — The heel strap is not only eye-catching but functional
Adjustable instep strap — The "inverted V" straps aren't sewn down, so you can use them to lock in your instep while keeping your toes free to move
Reflective straps — That middle section of the heel and instep straps is highly reflective for evenings and night
Optional 2mm insole — If you need a bit of extra protection, toss in the optional 2mm insole
Barefoot friendly — Wear the Prio with or without socks
Check out these reviews from Prio wearers
Get the right size for your Prio
Because the foot is three-dimensional, any two-dimensional measuring tool, such as a ruler or Brannock device®, can only approximate your true shoe size. Manufacturers model their shoes on different foot shapes which is why you might be an 8 in one brand and a 9 in another.
The Prio fits "true-to-size" or a TINY bit small. So you'll probably be okay selecting your "usual" shoe size.
NOTE: The width of the Prio is approximately EE width.
NOTE for Hana owners — The Prio is a bit wider than the Hana and, with the multi-part upper (compared to the Hana's single-piece upper), it's more accommodating for wider feet. Also, if you already own a pair of Hana, we suggest going up 1/2 size from those; some people like a bit more room for a performance shoe.
Sizing for a shoe is different than a sandal, so if you own one of our sandals, that doesn't mean you'll pick the same size in the Prio.
After following these instructions, if you think you're "between sizes," go up a 1/2 size.
2 Simple Steps to the Correct Fit
1) Measure your foot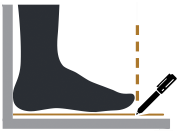 Place a piece of paper against a wall (if you have VERY large feet, use a piece of newspaper.
If you plan to wear socks with your Prio, put those on
Place your foot on the paper, with your heel against the wall.
Make a mark on the paper at the furthest point away from the wall… this will either be just in front of your big toe or second toe
Take a ruler and measure from the edge of the paper to the mark you made.
Here's a video showing the process
2. Check your measurement against the charts, below
This will give you a good idea of your size… but PLEASE follow the next step whenever possible.
Women's Prio Sizing Guide
Foot Length
inches
Foot Length
millimeters
Women's Size
Up to 8 1/2″
Up to 218mm
5
Up to 8 5/8″
Up to 222mm
5.5
Up to 8 3/4″
Up to 226mm
6
Up to 8 7/8″
Up to 230mm
6.5
Up to 9 1/8″
Up to 234mm
7
Up to 9 1/4″
Up to 238mm
7.5
Up to 9 3/8″
Up to 242mm
8
Up to 9 5/8″
Up to 246mm
8.5
Up to 9 3/4″
Up to 250mm
9
Up to 9 7/8″
Up to 254mm
9.5
Up to 10 1/8″
Up to 258mm
10
Up to 10 1/4″
Up to 262mm
10.5
Up to 10 3/8″
Up to 266m
11